You can kill me now
Ok I have decided what to do for the Knitting Olympics. I am going to make my first sweater. I am going to be resourceful and use some yarn I already had and I have enough of it for a child size sweater. So maybe I will use it in the future or give it away - I am also contemplating making a cable down the front of it (a twisty looking braid).
Here is a pic of the yarn I am going to use:
Artful Yarns: Vaudville Color=Abbot & Costello Color #13 100% merino wool(retired yarn)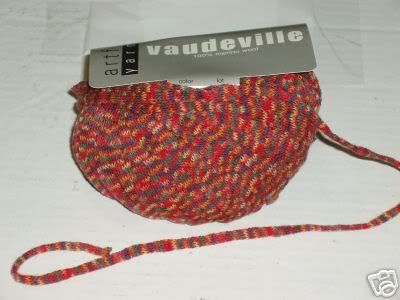 So that stress is gone - now just the stress of completing it in 2 two weeks during the Olympics -- why am I doing this again? - Oh yeah this is supposed to be something I enjoy.
On another front I feel like I am completely drowning in work at my office. Things keep piling up and my boss is being a jerk becasue he doesn't want to update our employee handbook to the current federal and California employment laws. He is one of those stoneage employers that thinks you should just be thankful to have a job and keep yourmouth shut - because he doesn't want to give you anything extra or even be nice about what he has to give you by law.
In short my boss has dug his heels in and the senior management team (of which I am a member) will probably have to go to the chair of the board to get this whole thing moving along.
Office politics - itn't it a wonderful thing!