Toasty Feet Part 2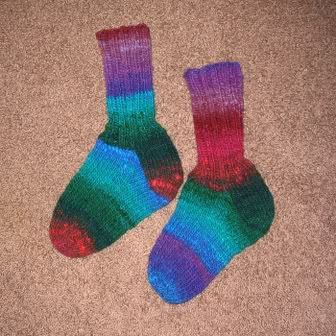 So I finished my socks class last night and I have succeeded in closing up the toe with the elusive Kitchner Stitch. After actually doing the Kitchner it really isn't that difficult but having the instructions written out doesn't hurt.
Going to class last night was really wonderful especially after my horrible day at work. We had our senior management team meeting - a tedious 2 hour affair where my boss decided to be an absolute natzi about revising our Employee Handbook that is 5 years out of date and is completely missing the new family leave policies for California. He doesn't think that family leave is that important, but just because he may not ever plan to have a family doesn't mean that some of our staff members won't want to someday! What an insensitive moron!
An a happier note - I have been invited to the Knitting Olympics. Here is the deal, you start a challending project during the opening ceremony of the Olympics and you have to finish it by the closing ceremony. The kick off is on Feb. 9 at ImagiKnit in San Francisco. May the knitting begin!