Makeover Day
We have officially made it through 3 days together and I haven't even thought about killing Mom . . . but I do admit to rolling my eyes quite a bit.
Thursday I put Mom on a San Francisco bus tour and then to the Asian Art Museum, where we throughly wore ourselves out. I won't go into detail about everything we saw becasue if you know Mom she will take care of that when you see her. Suffice to say she has pictures to document each part of ther trip so far.
Yesterday on Friday, we bummed around, relaxed, and topped the day off with a chiropractic adjustment and massage therapy for both Mom and me. I really wanted Mom to to something to pamper and take care of herself and a massage seemed to fit that bill quite nicely. She was so relaxed that she looked like she had had a few glasses of wine!
Today, Saturday, we both had our hair done. Mom mentioned that she should color her hair so I made her an appointment. I don't think she expected to have her hair done but I thought she definately needed to do it! Her hair has been the same for 20+ years - it was time for a change. After all it was a golden opportinuty for the sister and I to update Mom's hair! No more blonde!
We gave her hair a bite more of a pixi look taking away the round look her hair had around the sides. We also darkened it to a dark blonde - what we call caffe au lait. She has also gotten instruction on how to FINGER brush her hair and "mess" it up correctly - no more combing to the side. It should be wasier for her to take care of. She always wanted to have her hair look good even if it got windblown - so now she has it.
Now what should the next step of the makover be? I don't think that I could get her to shop for clothes anywhere other than Goodwill - we may need to call in proffessional help for that step. We should call that show "What Not to Wear".
Before---------------------After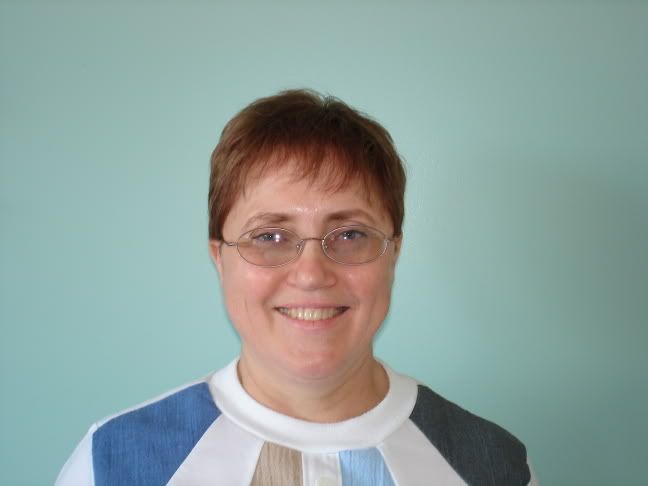 Before---------------------After