Memories are expensive
I have been watching an eBay auction listing for a blanket that is exactly like my "Blankie" from when I was a kid. It had some satin edging issues but I figured I could ship it off to The Sister to help me out with her spiffy new sewing machine.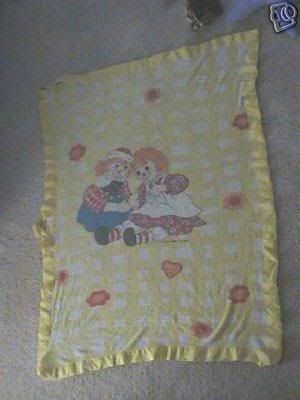 So I waited until there was 2 minutes left and I bid an absurd amount $200.01 figuring it would never go that high. Who else could have my same exact memory and be so very adamant about replacing it? Well with seconds left the bidding got heated and against my better jusgement I upped my bid to - [holding my breath] over $250. Keep in mind this is someone else's slightly rattie looking "Blankie".
I ended up losing the auction - the blanket went for
$257.20!
Here is the auction
I guess memories aren't as unique as some may believe. There actually was another 30 something year old who wanted that blanket as much as me. Well I guess I didn't want it enough, since I lost by only $5.
EBay is great for purchasing back your memories but it sure can be expensive! My advise is to keep your childhood stuff nice you can keep your memories intact and not have to buy them back later.
For the record I do have my original Blankie but he is fragile and probably wouldn't survive a machine washing very well anymore.
Ahh . . memories . . .